The pine tree is too small to be used as decoration panel. So they are mainly manufactured into MDF. Pine wood often means MDF based on pine wood. Our pine wood ceiling panels are designed with natural wood warmth, elegance and beauty, and with added benefits of sound absorption.
Pine wood ceiling planks absorb sound energy through a variety of grooves or perforation patterns and blade or plank configurations. Each ceiling type has been independently tested to verify acoustic performance.
Component of Pine Ceiling Panels
Substrate: Flame retardant MDF
Back: Blind veneer + black acoustic fleece
Surface: Slice genuine wood veneer, 0.3 mm
Surface treatment: UV paint wood slat ceiling
Infill (optional): 50 mm sound core can be installed behind most panel types to maximize the acoustic performance.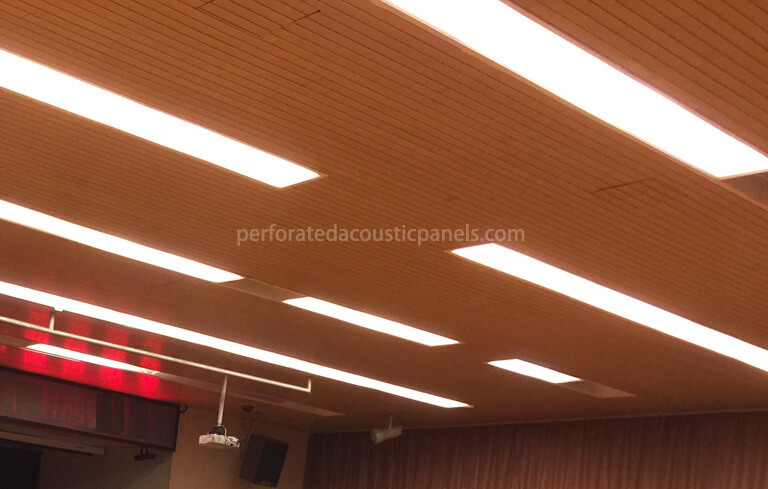 Pine Paneling Ceiling Fire Safety
The pine paneling ceiling comply with the most industry standards, building codes and fire regulations. Certification for perforated ceiling tiles is available upon request.
United States: ASTM E-84: Class A
EU: EN 13501-1: Class B, s2, d0
The panel is finished with high quality varnish in three stages to ensure only the highest standards and durability. Engineering veneer is also available. In addition to veneer, you can also use high pressure laminates (HPL), and melamine matching are also available.
Pine wood ceiling not only creates eternal beauty and charming space, but also environmentally friendly choice. About 1,000 square meters of the pine panelling ceiling is made of 1 meter cubic wood. The highest quality trunks are used for production, and each veneer is manually selected by our veneer specialists.
Green Highlights
Manufactured with a durable low-emission element
Delivered in environmentally friendly packaging
Low formaldehyde pine boards for ceilings
Recyclable and fast renewable resources