Microperforated Acoustic Panels Micro-Perforated Acoustic Panels Micro-Perforated Wood Ceiling
Microperforated acoustic panels are different from any other slotted acoustic panels or perforated wood acoustic panels on the market today. The unparalleled performance, unique aesthetics and structural integrity of micro perforated wooden acoustic panels represent a new category of decorative sound-absorbing walls and ceilings. Micro-perforated acoustic panels are carefully designed to provide a pleasant design and unparalleled sound insulation effect, and the microperforated wood panel can be truly seamlessly integrated into all types of projects.
Uncompromising beauty, you no longer need to sacrifice functionality for micro-perforated wood veneer panels. Microperforated acoustic panel and micro-perforated wood ceiling provide pleasing design features while providing excellent sound absorption. Its special lightweight design allows microperforated panels to be hung like traditional wall panels using standard Z-clamps, making it easy to integrate with your existing design plans. The microperforated panel has impact resistance and rigidity, and can resist seasonal changes in temperature or humidity, so it is very suitable for use in any indoor space.
Microperforated acoustic panels are designed to seamlessly pair with your existing or planned designs, making them perfect for any room. The core of each microperforated acoustic panel or ceiling is made of MDF, which provides a high-quality surface and a variety of different exterior materials. Wood veneers, vinyl, high-pressure laminates, and even painted exterior surfaces can be used to match the interior design of any space.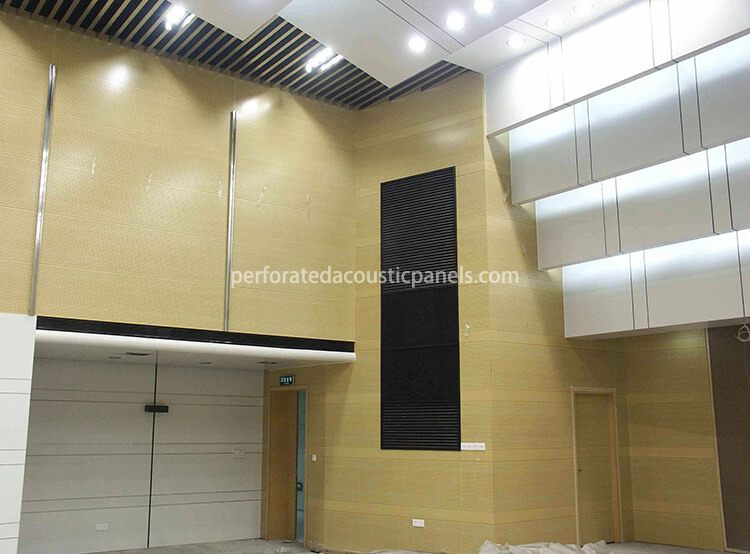 Technical Specifications of Micro-Perforated Acoustic Panels
Size: from 600x600mm to 1200-2400mm. Special size of acoustic perforated panels can be produced on request.
Raw material: spray paint, melamine and natural veneer MDF
Acoustic fabric: black
Fire rating: apply for B1.
Core Material: MDF, MgO
Thickness: 15mm, 18mm, 12mm
Pattern: 8-8-1
Carrying system: a combined system of tongue and groove.
System: The microperforated wood panel is equipped with a tongue and groove connection system. The micro-perforated acoustic panel is placed on the wall with an air nail gun and strong glue.
Custom veneers can also be used for these micro perforated wooden acoustic panels. Please contact us to discuss the various veneer options we offer so that we can start designing veneers that meet your specific needs.