Perforated Sound Absorption Panels Wholesale Acoustic Perforated Wall China Acoustic Perforated Wall
The perforated sound absorption panel has sound-absorbing performance and can be used to improve the quality and clarity of sound in a room or area. The acoustic wood wall is very effective in controlling reverberation. The construction of these perforated sound absorption panels complements the position with their design and surface treatment.
China acoustic perforated wall is very effective in large rooms and can be used as partitions in halls or auditoriums to provide sound control. The material used for the perforated acoustic panels china and the design of the wooden sound absorption panel depend on the level of noise control required.
Function of Perforated Sound Absorption Panels
Refractory
High-quality sound attenuation
Aesthetically
Perforated acoustic panels price
Effective sound absorption
Weather resistance
Insulation performance
We provide standard size perforated sound absorption panels. We can also customize the size of the wholesale acoustic perforated wall according to customer requirements. Our customers can use our wide range of products to seek the advice of acoustic consultants to get the best acoustic solution selection. In addition to our high-quality auditorum seats, we also produce perforated sound absorption panels for ceilings and walls in our factory.
Perforated Sound Absorption Panels Specifications
Size: 600x600mm, 600x1200mm
Core Material: MDF, MgO
Thickness: 15mm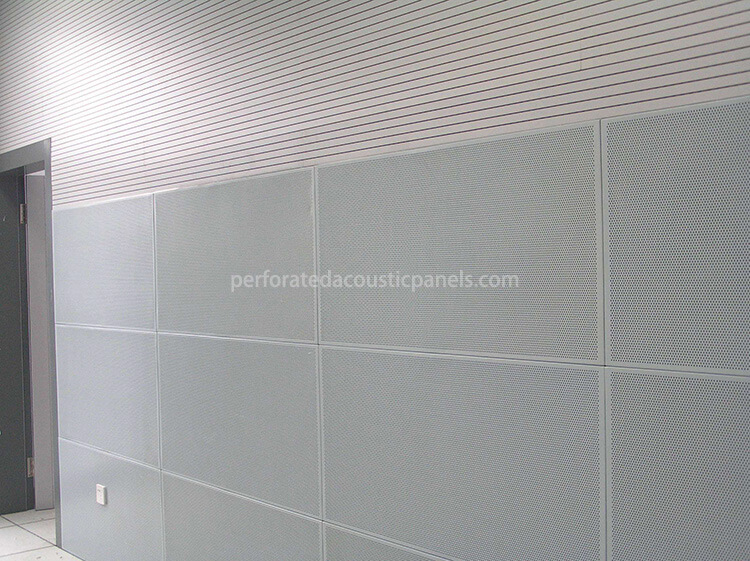 Where can our original perforated sound absorption panel be used?
On the ceiling and wall of the following meeting rooms: meeting rooms, theaters, wedding halls, cinemas, opera houses, shopping centers, restaurants, radio and television studios, offices, crowded offices, hotline centers, call centers, shooting ranges, fitness centers , Call center, swimming pool, wedding room, greenhouse, study room. It can be used together with grooved acoustic panel.
Surface design
Laminate
An alternative to wood veneer on acoustic wood walls is laminate. Different surfaces will produce different expressions. With a flat and uniform surface foundation, the laminate coating can obtain an overall impression, which is almost impossible to obtain with the on-site surface treatment. The fire rating of the laminate is B-s1, d0.
Veneer
The structure and tone of the wood have natural changes and live in harmony with nature.
Paint veneer
One of the many advantages of wooden sound absorption panels is their flat surface. In this way, the surface of perforated MDF boards can be painted and the wood texture of the surface can be maintained. Paint surfaces in multiple colors can be specified according to, for example, NCS or RAL codes with gloss rates up to 50.
Painted solid color
An alternative to wood veneer and laminate is to spray directly on the board. The flat surface of the panel can be painted surface treatment, which is difficult to achieve on site.