Wood Perforated Panels Factory Perforated Sheet Wood Perforated Wooden Board
The perforated wooden board has a modern, lightweight and luxurious appearance, and due to its structural characteristics, the cladding can achieve high acoustic efficiency. Provide large plate finishing options according to project requirements. All of our wood perforated panels and acoustic perforated panels are made of high-quality raw materials and refractory materials in accordance with the strictest EN standards.
In order to obtain a good acoustic effect in the space of the room combined with an impressive aesthetic effect, the perforated panel wood board is made of MDF board with 3 choices of thickness: 12mm, 15mm, 18mm (the back includes 0.2mm thick black sound insulation fabric)), and has high technical efficiency in absorbing noise.
At the design level, the cladding perforated sheet wood panel has a good linear, qualitative and discrete aesthetic. It is suitable for halls with high requirements for sound, such as auditoriums, conference halls, libraries and all other types of public buildings.
Wood Perforated Panels Specifications
Application areas: walls and ceilings
Size: for ceiling: 600 x 600 mm-for wall: 600 x 1200 mm or as required.
Perforated board wall thickness: 3 options: 12mm, 15mm, 18mm (including 0.2mm thick black soundproof cloth at the back)
Material: MDF substrate, for those who have the budget to invest in veneer, which is almost twice the price of melamine finish.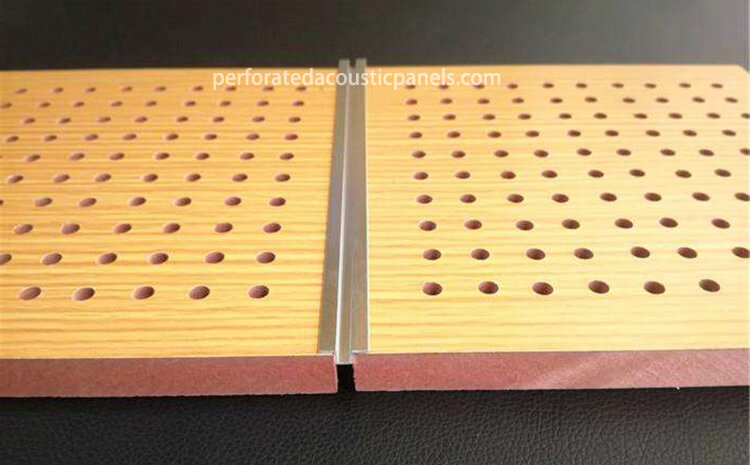 What are perforated wooden panels?
In order to improve the acoustics of the space, you will need to build with materials specifically designed to improve the sound quality of the room. Acoustic perforated sheets are the perfect choice. Perforated board panel is a type of panel designed to reduce indoor noise levels by reducing the acoustic frequency of the room. This helps optimize sound clarity in spaces where sound control advantages are needed.
How to determine the model that suits me from all the options?
In fact, we have many models of perforated board panels and grooved timber panels, but what you need to do is first get the professional requirements of an acoustic engineer. The engineer tells you that he is interested in certain acoustics, so you can choose a model. Meet the requirements. Please note that some of our wood perforated panels have a technical chart that indicates the acoustic quality of the acoustic perforated sheet to which they belong, and your choice may be based on the appropriate chart.