Grooved Acoustic Panel Wooden Acoustic Perforation Panels Acoustic MDF Panels
The grooved acoustic panel is a high-performance sound-absorbing product with excellent visual appearance and excellent noise reduction and sound absorption performance. It is particularly good at low-frequency sound absorption. Wood slat acoustic panels with striped perforations provide you with beautifully designed panels with linear appearance and excellent acoustics. Acoustic MDF panels enable you to create elegant and creative installations for walls and wooden acoustic ceiling panels with the highest fire rating on the market.
Grooved acoustic panel with pinstripe design
Compared with hole or slit perforation, grooved wood panel with striped perforation shows a smaller opening area and still has a comparable sound absorption effect. By using our MDF or MgO as the core material on grooved panels, acoustic perforation panels enable you to create excellent installations for walls and ceilings.
Grooved Acoustic Panel Technical Index
Edge design slotted for system installation
Acoustic felt black/white
recycled materials after consumption
Size: 2440x128mm wood panel acoustic
Core Material: MDF, MgO
Thickness: 15mm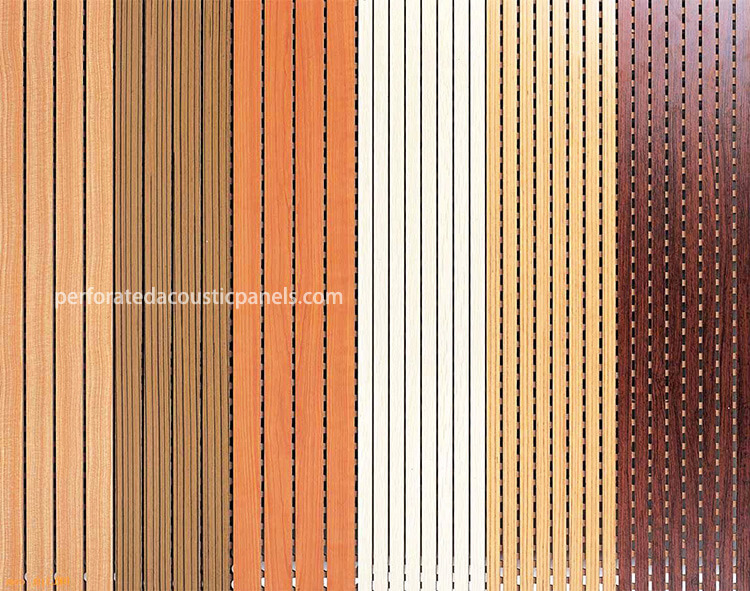 Grooved acoustic panel with continuous pattern
Compared with our standard or slot perforation, the wood slat acoustic panels have a smaller opening area, but still has a comparable sound absorption effect. The acoustic grooved panels with stripe pattern always ends with 1 stripe on the edge of the acoustic perforation panel, which will hide the joint between the two panels, thus realizing a continuous acoustic design without borders. As for installation system, the aluminum profile can grasp the entire length of both sides of the panel, so that the grooved wood panel is horizontal and aligned.
Become a partner
Grooved acoustic panels are most suitable for:
-Restaurant Acoustics: Acoustic MDF panels can improve the acoustics, so that diners can better listen to each other's opinions. They are also less likely to inadvertently eavesdrop on other people's conversations and improve their ability to communicate with waiters.
-Office Acoustics: Wood is a standard configuration in many offices, so acoustic wood is suitable for many office decorations.
-Hotel lobby and banquet hall acoustics: It is often difficult to manage acoustics in large spaces such as hotel lobbies and banquet halls. The wooden sound insulation board can control all the rebound sound.
-Church Acoustics: Wood slat acoustic panels make it easier to listen to sermons and hymns without compromising the respectable appearance of the church interior.
-Classroom Acoustics: Any teacher is welcome to tell you any information that can control the classroom sound. The correct arrangement of acoustic perforation panels can do this without causing additional disturbance to students.