Perforated MDF 600 x 1200 mm
Our perforated MDF panels combine the natural beauty of wood with well-designed perforations in a series of classic designs. As one of the most popular acoustic panels, perforated MDF sheet is widely used in office buildings, hotels, hotel, recording, catering facilities, gymnasiums & multipurpose room, office space, retail industry, university, etc.
A wide range of finishing options are available, including natural wood veneer, HPL, and melamine lamination. We can provide perforated MDF board with various shapes, curves and other custom features. We offer a wide range of finishing options to meet your fire classification, sustainability and appearance requirements. We can also provide installation accessories for perforated acoustic panels so that to ensure smooth running for a long time.
Perforated MDF Board Specifications
Available size: 1200mm x 600mm, 600mm x 600mm, custom
Pattern: 16-16, 32-32
Thickness: 12, 15, 18mm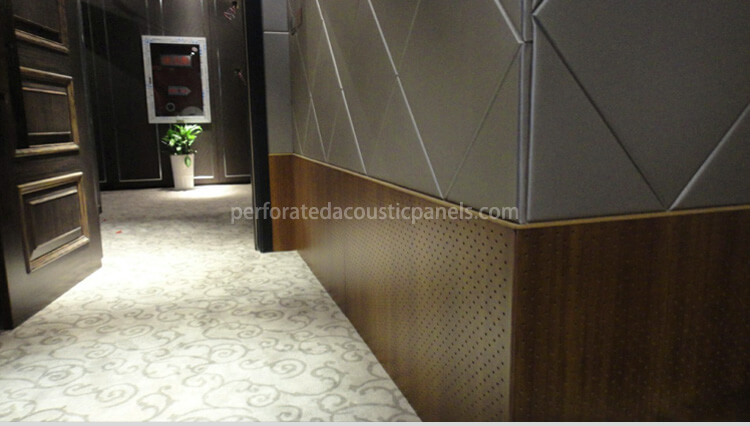 Acoustic Performance
The acoustic performance of MDF perforated panels is mainly depends on the "open area" and frequent of perforations. It's recommended to install a 50mm thick acoustic wool on the back for better acoustic performance. Acoustic fleece is pasted on the back of each perforated MDF panel for a black-out effect in the panel and prevent possibly degraded acoustic wool from going outside.
Installation
These perforated MDF boards are suitable for use with simple T-shaped grids or other custom mounting walls or ceilings of the system, and available in square or double square configurations. When it's used as wall panel, we recommend 15mm thick and it's used as ceiling panel, 12mm thick is recommended. That's because wall panel should have better impact resistance performance which ceiling panel should be lightweight.