Perforated Wood Acoustic Wall Panels Perforated Acoustic Panel China Perforated Acoustic Panel Suppliers
Perforated acoustic wood panel is used as finished panel, and usually 50mm acoustic wool material is installed at the rear. Acoustic performance depends on the "open area", and larger or more frequent perforations can provide higher performance values. Check the specification sheet to obtain the performance data of each acoustic perforated wall product. Our perforated acoustic wood panels and acoustic perforated panels combine the natural beauty of wood with precision engineered perforations in various classic patterns.
Our decorative perforated wood panels are suitable for walls or ceilings that use simple T-shaped grilles or other custom mounting systems, and are available in square or double-sided configurations. We offer a variety of finish options, including natural veneers, laminates, melamine or RAL colors. We can also provide perforated wooden acoustic panels with various shapes, curves and other custom functions.
Perforated Acoustic Wood Panels Specification
Size: 600mm x 600mm, 600mm x 1200mm
Thickness: 15mm
Weight: 10kg/m3
Perforation: Surface diameter: 1 mm
Fire-proof level: Class B1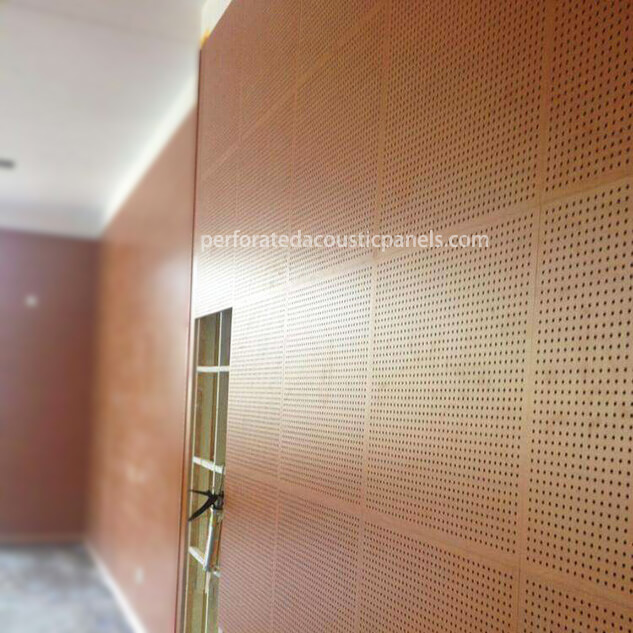 What is a perforated acoustic wood panel?
The wooden perforated panels are designed to reduce the noise level projected by speakers, musicians and other sound events. It can also reduce the sound reverberation in the building, so the sound does not interfere with adjacent rooms in the same building. The perforated acoustic wood panel is not completely "perforated", but has tiny dents in it to absorb and concentrate sound waves. In addition, these specialized perforated wooden acoustic panels can be hung from the ceiling to further reduce noise levels and echo.
Wooden sound-absorbing panel
Remember, these are not necessarily purely blank decorative perforated wood panels. We can provide you with customized patterns and designs according to your specifications, so the sound insulation effect of your wooden perforated panel will match your existing decoration or be enhanced in a way that you may not have considered before. Whether you choose wall decorative perforated wood panels, ceilings, suspended baffles or some combination of these, wood perforated panels can enhance your business or office on all levels.
What will acoustic perforated wall panels do for you:
-The perforated acoustic wood panel will absorb and diffuse sound, making your space quiet.
-The perforated wooden acoustic panel will improve voice clarity, recording quality and listening quality.
-Perforated acoustic wood panels will add privacy and intimacy to your space.