Linear Acoustic Panels Grooved Fire Proof MDF Panel Linear Wood Ceiling Panels
One of the most commonly used multigroove panels is linear grooved acoustic panel. There is no hole, it is considered as a reflector, but there is a hole on the back, which can reflect sound waves and absorb sound waves, so that the sound is clear and warm, and at the same time produces a clean linear effect on walls and ceilings in various applications. The linear grooved acoustic panel style provides a warm organic surface effect, which is very suitable for use in lecture halls, conference rooms and public buildings.
The grooved fire proof MDF panel is constructed using fire rated MDF core and is provided with MgO core. Linear wooden acoustic panels can be a sound insulation solution in many places and applications. The linear sound-absorbent panels and acoustic grooved panels can be installed horizontally or vertically. In the field related design, the panel width, length and the space between each slat can be adjusted. We can produce any customized size linear wood ceiling panels. We offer a variety of finish options to meet your needs in terms of fire rating, sustainability and appearance. We can also provide construction joinery products such as custom decorations, skirting boards and return trips, so you can ensure consistently high quality and the project runs more smoothly.
The linear grooved acoustic panel system absorbs sound in a manner similar to the slotted wood system. The linear system can achieve up to 0.87 NRC, depending on the amount of insulation material and the size of the board.
Linear Acoustic Panels Specifications
Size: 2440x128mm
Core Material: MDF, MgO
Thickness: 15mm, 12mm, 18mm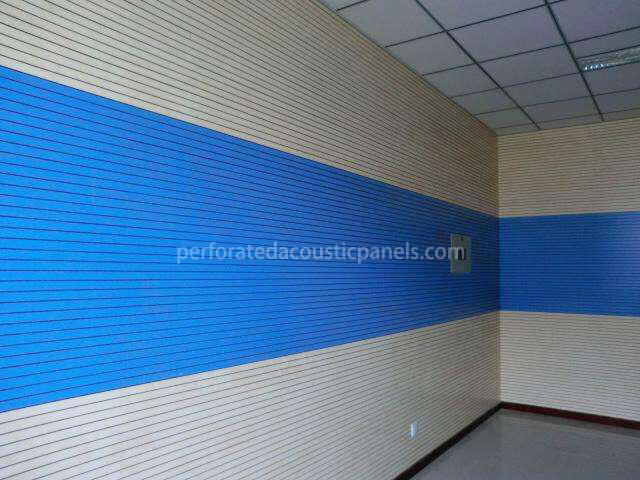 Multigroove Panel Features
Acoustic characteristics, non-flammable, sustainable customized solutions, quick installation, integrated and concealed lamps, expected life span of <50 years
Application
-The sound of the auditorium and lecture hall: The auditorium and lecture hall are another large space. The hearing is obviously critical, but the sound may be difficult to control. Acoustic wood liner panels may be the ideal solution. These types of spaces are perfect for complete linear acoustic panels, including the ceiling, walls and suspended options.
– Recording Studio Acoustics: Reliable soundproofing is vital to a recording studio, and linear acoustic panels can provide just that level of sound absorption you need.
– Entertainment Facility Acoustics: Great acoustics can make entertainment facilities that much more fun, and with custom patterns available, the linear sound-absorbent panels that can provide those acoustics and will fit right in.
– Home Theater Acoustics: A wood-paneled home theater can not only look classic and elegant, but if those linear grooved acoustic panels are soundproof, it can also vastly improve your listening experience when enjoying your favorite cinema classics.