Acoustic Wood Panels Factory Acoustic Panels Wood Acoustic Wood Panels Wall
The acoustic wood panels we manufacture show the beauty of solid wood and bring additional benefits of acoustic performance. Acoustic panel wood planks can be used for wooden wall and wooden ceiling applications and use standard industrial installation components. There are six different systems of acoustic panels wood boards, which can be used for wooden walls and ceilings of various popular and exotic wooden finishes, and provide an absorptive and reflective acoustic system.
Standard hard fiberboard is made of wood fiber. This provides more water resistance and impact resistance, hardness, stiffness and tensile strength. Acoustic wood panel can be chemically treated to increase strength and flame resistance, or it can be made into plywood first. Moreover, acoustic wood panels wall can be installed in a thin strip shape instead of a square panel.
Acoustic Wood Panels Specifications
Size: 2440x128mm
Core Material: MDF, MgO
Thickness: 15mm
The acoustic wood panels we provide for walls and ceilings combine design and sound insulation performance with standard solutions and customized solutions. The high-density non-flammable core and the firm adhesion of the surface veneer to the fiber board make the panel non-flammable. The use of fibrous core naturally results in extremely low emissions and high rates of recyclable components. They only use renewable energy for production.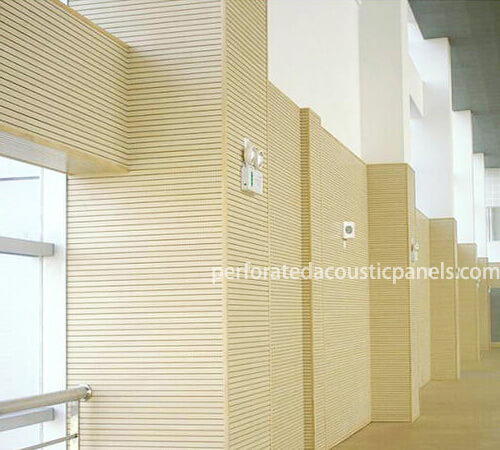 Acoustic Wood Panel Features
Acoustics
From an acoustic point of view, it is often advantageous to congenitally use heavier siding compared to lighter materials. The weight of the acoustic wood panel is 10 kg/m², which is approximately twice that of most wood-based panel materials. The design of perforated wood acoustic wall panels depend on the absorption coefficient, which is the average of the absorption rate of each product at multiple frequencies (usually 500 Hz, 1000 Hz and 2000 Hz). Generally speaking, soft, porous materials are more absorbent than hard reflective surfaces.
Integrated panel system
The system provides a fully integrated and hidden mounting fixture. Installation of wood acoustic pannel is fast, reliable and cost-saving.
Stability
When humidity and temperature change, wood-based sound absorbing panels will show swelling or shrinking. Sound proof acoustic wooden panel is less susceptible, which results in a flat and linear surface.
Certification
Reaction to fire B1-s1, TVOC approved emission (EN ISO 16000-9), formaldehyde approved emission (EN 717-1)