Perforated Acoustic Wood Panels Perforated Wooden Acoustic Panels Acoustic Perforated Wall
Wood is generally not considered an acoustic material. Although it can reflect sound well (for example, in the image above), it will not absorb sound unless it is modified. While maintaining the NRC sound absorption effect, you can achieve a woody look through several main methods by acoustic perforated wall suppliers or acoustic perforated wall manufacturers. There are different kinds of perforated wood acoustic wall panels, including micro perforation, slotted panel, and standard perforated acoustic panel china.
Technical Information for Perforated Wood Acoustic Wall Panels
Core material: MDF
Size: 600x1200mm
Thickness: standard 12/15/18mm
End: Melamine
Color: Provide a variety of colors by perforated acoustic panel suppliers
Perforation details: 16-16-6, 8-8-1
Fire rating: According to the standard
Installation: aluminum profile and aluminum keel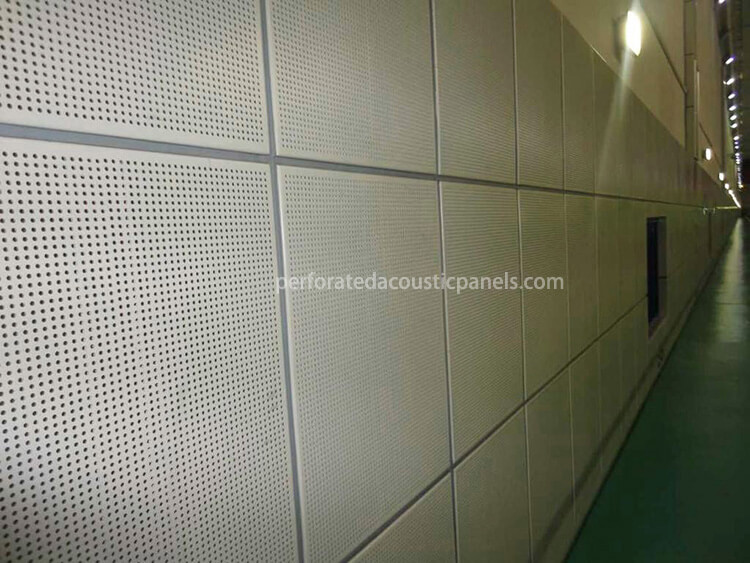 Less than ten years ago, perforated wood acoustic wall panels were the pioneer of the building component group. Since then, almost every wood product manufacturer has joined in. However, it is still the industry leader in high-quality ultra-fine wood. Micro perforation is the process of perforating a wooden veneer on the surface and perforating at the back. This allows sound to pass through the wood and be absorbed by the acoustic medium behind it, such as fiberglass or other acoustic blankets.
When used on the ceiling, the perforations on acoustic perforated panels are almost invisible from a distance, thus maintaining the desired overall wooden appearance. With a 2-inch sound insulation blanket, the microporous acoustic perforated wood panels can achieve an NRC of up to 1.00.
Grooved panel
Grooving or grooving the wood board is cheaper and has a different aesthetic effect than micro-perforation. The groove allows sound to pass through the core and be absorbed by the acoustic medium behind the core. Slotted perforated wood panels acoustic panels with 2″ acoustic blankets can achieve up to 0.85 NRC.
Perforated wood acoustic wall panel
Perforated wood acoustical panels have existed for decades. The perforation pattern and hole size are variable, and can absorb up to 0.80 NRC sound.
To learn more about acoustic perforated wood panel products and how to adapt them to the needs of commercial buildings, please contact us immediately for consultation, specifications or samples.