Acoustic Perforated Ceiling Manufacturers Wooden 600X600 Acoustic Ceiling Tiles 16-16-6
We provide various acoustic perforated panels to our customers. Most of the raw materials comes from local plantations, which are guaranteed to be renewable and certified for zero formaldehyde emission. Our wood acoustic ceiling systems have three obvious advantages. Acoustic perforated ceiling manufacturers provide a fire certificate, eco-friendly system, and most importantly, it is a truly effective acoustic system.
General characteristics of acoustic perforated panels
It is designed to produce interesting effects and meet any need to eliminate sound reflections. This is why this sound-absorbing panel is very popular in home theaters and music rooms. Some rooms look good, but there are many hard, flat surfaces that will affect the sound in the room. Such plastered walls, wooden floors or tiles will amplify noise because they will reflect sound. This can cause stress, nausea, and in some cases tinnitus. Acoustic perforated panel provides excellent acoustic options. The wood acoustic ceiling panels can be used in meeting rooms, reception areas, large classrooms and home theaters.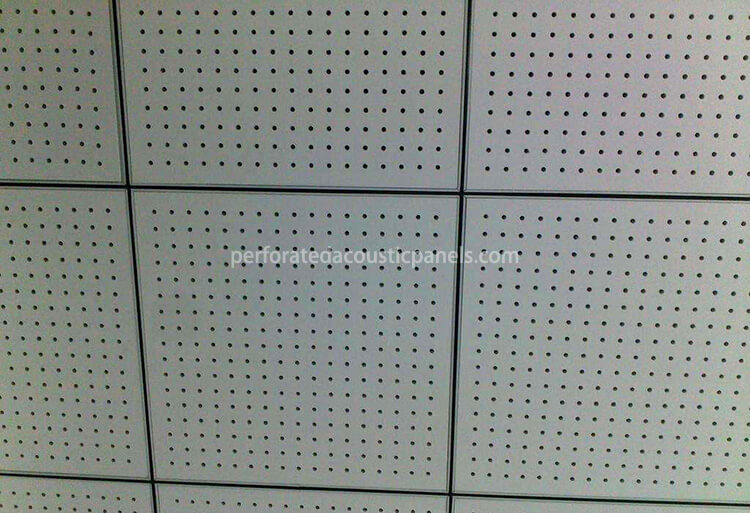 Custom cut 600×600 acoustic ceiling tiles
We can process profiles provided by customers and create holes and grooves in different ways to accommodate different levels of sound reflection. As one of the leading acoustic perforated ceiling suppliers, we provide a variety of colors, which are provided and installed on the customer's site by your installers. According to its suitability for perforation, we can acoustic perforated panel. We offer thickness from 12mm to 18mm, and the standard size provided is 600×1200 mm, we also provide various other sizes. For these acoustic perforated panels, the size can include but is not limited to 600x600mm and 2400x1200mm.
We use a unique treatment process to completely eliminate discoloration and surface residues, presenting a flawless surface, which can be used for dyeing and lime washing. In order to make a clean and precise shoulder cut, we use a drill with a rotating spiral screw (auger) and the latest scoring. This helps us perforate the thickness of 12-18mm, so that the surface loss of these wood acoustic ceiling systems can reach the level of 2.75% to 39%.
Most overseas suppliers do not provide zero formaldehyde emission levels (a key quality parameter). We maintain strict quality levels and audit our products. For personalized suggestions and quotations for your project, please contact us.