used in Any noisy rooms
Enjoy Quiet with our Guaranteed acoustic perforated panels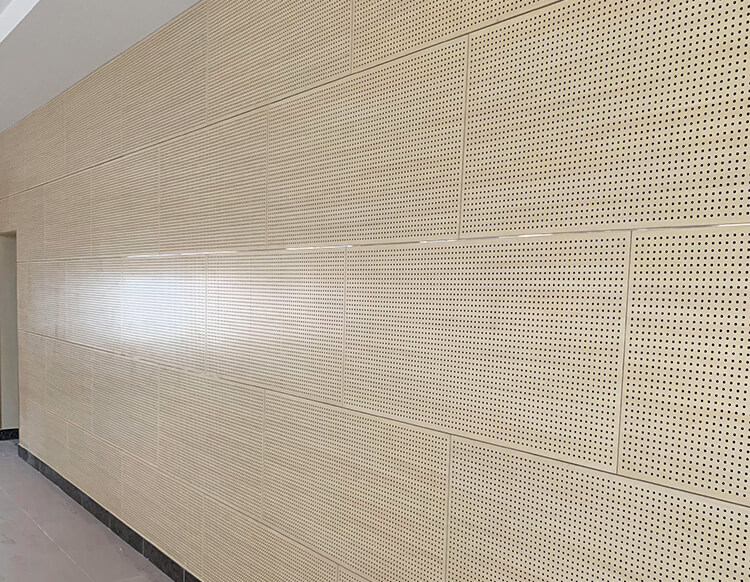 Cost-Effective perforated mdf panels for echo reduction
Looking for sound absorption panels for your reverberation time problem? Our perforated acoustic panel has got you covered.
Our perforated wood acoustic panels are competitively priced, making them an affordable solution for improving the acoustics of any indoor space.
Our echo reduction guarantee ensures your room to meet the standard reverberation time of its kind, allowing people inside to hear clearly.
Our perforated panels factory, Your Backyard
We believe that versatility and performance go hand in hand. Our wooden perforated panels have been tested and rated for their sound absorption coefficients, ensuring that they meet the highest standards for acoustic performance.
With custom options like sizes, NRC sound absorption coefficient, finish colors, and more, you can get the perforated wall panel that fits your specific needs.
Experience the perfect blend of versatility and performance with PerforatedAcousticPanels.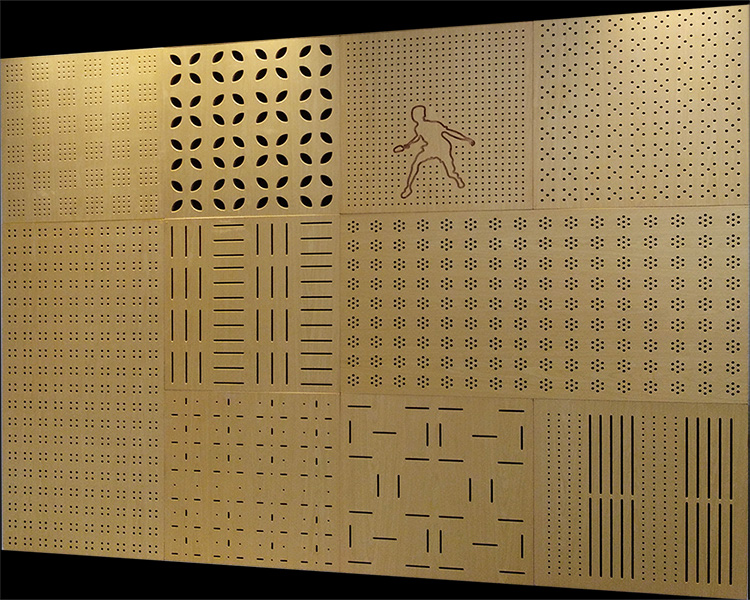 perforated acoustic wall panels that are easy to install
Looking for a cost-effective way to solve your echo problem?
We offer a range of panel sizes and configurations to fit any budget, and our panels are designed to be easily installed by normal carpenter or DIY, reducing installation costs.
Don't settle for perforated wooden board that under-performs. Choose PerforatedAcousticPanels for quality and reliability.
Professional packaging, shipping
We understand that packaging and logistics can be a concern when purchasing acoustic perforated panel.
That's why we offer professional packaging, using high-quality materials and experienced personnel to ensure your perforated acoustic board arrives safely and securely.
Here is an example. 20ft container holds about 1200m2 of 15mm thick wooden perforated acoustic panel.
Let us take care of the details so you can focus on your business.
Quality service, guaranteed
At PerforatedAcousticPanels, you're our top priority. Our wooden perforated acoustic panels are made from high-quality materials, ensuring that they are durable and long-lasting. Standard patterns are tested acoustically..
We can also make micro-perforated acoustic panels with micro perforated panel type 8-8-1, 4-4-0.7, etc.
Trust us to provide you with the highest level of customer service and keep your perforated wood panel operating at its best for years to come, saving you time and money.
Get Up Close and Personal with Our High-Quality acoustic perforated panels
See to Believe!
Won't believe your eyes! Our stunning photos showcase every angle and detail of our functional and visually appealing perforated sound absorbing panels, which are available in above 50 colors. As an import customer, you can't afford to miss out. See to believe!
Expertise and Quality Second to None
Testimonials
A Stellar Experience with Our wood acoustic panels
"I recently installed acoustic perforated ceiling and wall in my company's conference room, and the results have been phenomenal. The panels have significantly improved the acoustics of the room, making it easier to hear and communicate during meetings. The installation was quick and easy, and the customer service provided by PerforatedAcousticPanels was exceptional. Overall, I would highly recommend wooden perforated acoustic panels to anyone looking to improve the acoustics of indoor space."

David Miller
FAQ
1. Can you help to choose the right perforated acoustic tiles?
As a manufacturer of perforated wood acoustic panels, we have years of experience in the industry and a team of experts who can provide guidance, from design to installation. We can help customers choose the right panels for their specific needs, ensuring that they get the best possible results.
2. What kinds of places are your perforated acoustic panels installed?
They can be applied in many fields including auditorium, library, church, offices, arts center, lecture theater, bank, studio, training room, office, meeting room, etc.
3. Where are you located?.
We are in Guangzhou, China. Our perforated sound absorption panels are usually shipped from Guangzhou or Shenzhen port.
4. How quickly can you deliver them to my site?
All are customized from direct factory which takes 10 to 20 days. Micro perforated acoustic panels might take a little longer. The shipping time depends on where you are. Local wholesalers and suppliers are welcomed to stock.
Send a Message
We will contact you within 12 hours
Don't worry, we hate spam too!